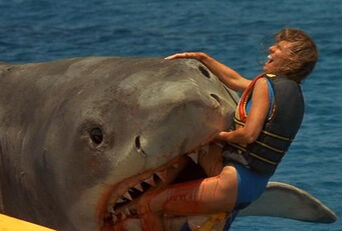 Mrs. Ferguson was killed by a great white shark while she was riding a banana boat in the Bahamas with her daughter and Thea Brody. Her exact age and origin are unknown but we can presume she was an American tourist visiting the country with her family. We only know she was Margaret's mother, a friend of Thea Brody. Note that Mrs. Ferguson is one of the only two shark's victim in the movie.She had sacrificed herself to save her family.
In the novelization of the movie, she is the wife of a dentist and her last name is changed to "De Lacey". 
Behind the Scene
Stunt actress Diane Hetfield portrayed Mrs Ferguson in Jaws : The Revenge.
Appearence
Mrs Ferguson is riding a banana boat when the shark attack occurs. The shark bites her thighs and drags her away in the opposite direction, leaving no chance to the other occupants of the boat to try a rescue attempt. The scene after, she can be seen punching desperately the shark's nose hoping it might free her leg from the jaws. Mrs. Ferguson is seen one last time after she has lost consciousness (probably from blood loss). Her body is dragged undersea where she will die (off-screen).