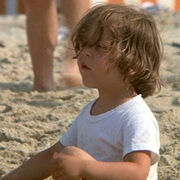 Jay Mello (Born June 16, 1968) was an actor, famous for his role as Sean Brody in the first Jaws film.
Life
Mello was born on June 16, 1968, in Oak Bluffs, Massachusetts.
Mello's Sean was a good character, as a toddler, and they started casting 1974. Sean was the one who was on the seesaw with his mother, at the beginning of the film, when Martin Brody, his father, started scolding Sean's older brother, Mike Brody, for accidentally cutting himself on the swings.
The next part with Sean was when Mike and the other boys were going into the pond, and Sean didn't want him to go in. He then started building a sand castle, and then cried when his brother was put into shock after witnessing the shark attack.
In one of the more memorable scenes of the film, Sean is seen imitating his father while sitting at the dinner table.