Jaws 19 was a meta holofilm playing at the Holomax Theater in the film Back to the Future Part II.
Appearance
[
]
Jaws 19 screened at the Hill Valley cinema during the summer of October 2015, and was directed by Max Spielberg. Although a phenomenal box office 'smash', apparently critics thought it "lacked the bite" of its eighteen predecessors.
An article reviewing the movie, entitled JAWS WITHOUT A BITE, was billed on the front page of the October 22, 2015 issue of USA Today in Section D.
On passing the Holomax Theater, Marty McFly was inadvertantly 'swallowed' by a gigantic holographic image of the title character eminating from the building's exterior. Despite this startling encounter, Marty still thought the shark looked fake.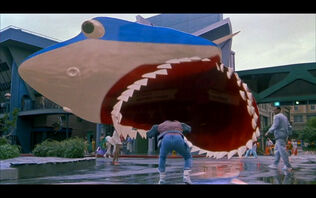 Hypothesis
[
]
Bearing in mind that although Jaws 5 through 18 have not yet been produced, there is still time to produce and release a Jaws 19 before the summer of 2015. This would then complete the time continuum and potentially open the door for a Jaws 5-18 to be produced retrocactivly.
Trivia
[
]
Max Spielberg is Steven Spielberg's son in real life.
The tagline for Jaws 19 is "This time it's really really personal", which is a callback to the tagline to the fourth film, Jaws: The Revenge, which reads: "This time it's personal".
While no official Jaws 5-18 currently exists, this one scene from Back to the Future Part II has, incidentally, led to a series of unofficial, fan-made videos of Jaws 5-18 being put on YouTube. One of them, entitled "Jaws 12: Land Sharks", tells a fictional story about a fictional son of Steven Spielberg's, named 'Edward Theodore Spielberg' (the first two initials spell out E.T., referencing Steven Spielberg's famous film). In the video, he supposedly 'inherits' the Jaws franchise from Steven, but in the process of making an amateur film called Jaws 12, Edward Theodore gets 'eaten' by fake shark, which more or less serves to imply that the series eventually falls into Max Spielberg's hands, for Jaws 19.
Appearances
[
]