Film Depiction (Jaws)
During Independence day beach celebrations depicted in the film 'Jaws', a black labrador retriever, known locally on Amity as 'Pippit', was lost not far from shore while playing fetch with its owner. Though it's unclear whether an undercurrent swept the dog out to sea, it is commonly believed that the same shark which attacked Alex Kitner, also attacked 'Pippit'.
Amity Incident
According to local Island lore, a Black Labrador retriever was in fact swimming near the beach prior to the outset of the infamous Amity Incident of 1973. While in the water during the early morning hours, it was attributed with saving a drunken man who had swum too far out the night before and was disoriented and lost clinging to an inter-tube.
Supposedly the dog nipped at the man until he regained consciousness and after thinking he was being attacked by a shark, swam back to shore. Ironically, later that evening a shark did, in fact, attack a local by the name of Christime Watkins. To this day there is a local tavern named in its honor called The Black Dog Tavern.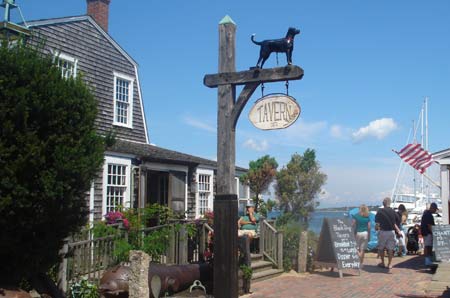 Appearances
Jaws
Links
[Black Dog ]